Modern Hydration Backpack with Optional Water Bag
$29.99
LARGE VOLUME: In-built 2-liter hydration bladder, extra-wide screw cap for easy re-filling, wide enough to insert standard ice-cubes, equipped with 35 Inch quick-release, soft mouth-piece drinking tube. 
FIRST-CLASS MATERIAL: EVA material for the bladder, 35-inch quick-release, soft mouth-piece drinking tube convenient to drink, waterproof& anti-scratch nylon fabric for ultimate durability.
ULTIMATE COMFORT: Breathable & airflow system to keep your back cool and dry, soft cushions on the rear of the backpack to comfort your back, adjustable shoulder/breast straps to perfectly fit your body.
SAFETY IN MIND: Reflective safety tabs and reflective logo for high-visibility in low-light environments, keep you safe and hydrated for most extreme environments & weather conditions, use food-grade material for the bladder.
Backpack specifications: 43*28*8CM

Drinking water bag specifications: 38.5*16.5CM
This product has limited quantities and will be removed from the store when it is sold out! Get yours before they are gone.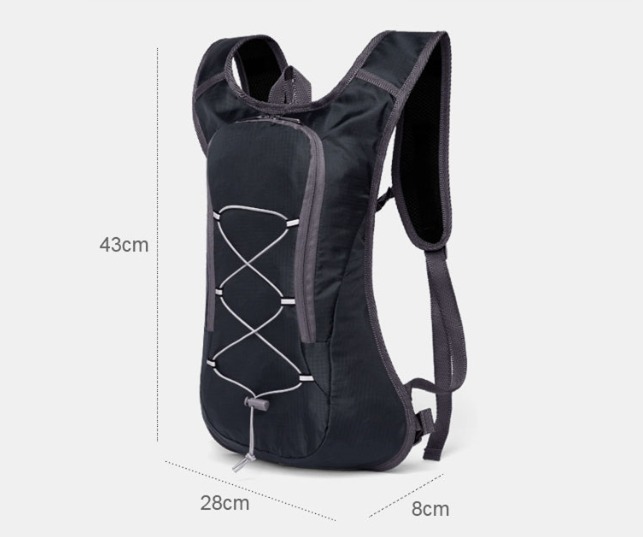 Modern Hydration Backpack with Optional Water Bag
Modern Hydration Backpack with Optional Water Bag

Description

LARGE VOLUME: In-built 2-liter hydration bladder, extra-wide screw cap for easy re-filling, wide enough to insert standard ice-cubes, equipped with 35 Inch quick-release, soft mouth-piece drinking tube. 
FIRST-CLASS MATERIAL: EVA material for the bladder, 35-inch quick-release, soft mouth-piece drinking tube convenient to drink, waterproof& anti-scratch nylon fabric for ultimate durability.
ULTIMATE COMFORT: Breathable & airflow system to keep your back cool and dry, soft cushions on the rear of the backpack to comfort your back, adjustable shoulder/breast straps to perfectly fit your body.
SAFETY IN MIND: Reflective safety tabs and reflective logo for high-visibility in low-light environments, keep you safe and hydrated for most extreme environments & weather conditions, use food-grade material for the bladder.

Backpack specifications: 43*28*8CM

Drinking water bag specifications: 38.5*16.5CM

This product has limited quantities and will be removed from the store when it is sold out! Get yours before they are gone.







Reviews