Portable Inflatable Shower Bag
$57.99
These 11L shower bags can be used as an outdoor camping shower, road travel shower, water flowering tool, and surf shower. Other popular uses include car washes, bathing animals, rinsing camping dishes and watering plants.
Easy Foot Pump: The Camp Shower Bag adopts a newly designed foot pump with a large, highly elastic mesh sponge that bounces by itself, allowing you to enjoy the same refreshing shower outdoors.
Pressure Nozzle: the pressure nozzle can easily control the flow of water, effectively rinse the body. The gripper switch is easy to open and close and please use water on demand to save resources.
Waterproof Design: the barrel is made of PVC mesh fabric. With the high-frequency laser welding process, it has a good seal. The protective cover is provided at the top cover to prevent it from being opened when the air pressure is too high.
Oversized Water Inlet Design: Oversized water injection over the bucket makes water injection faster. With handles on the top, you can hang on-demand or by hand.
Lightweight and Portable: the camp shower bag is easy to unfold to portable showers. The compact size and zippered bags make the outdoor shower a lightweight solution.
Capacity: 11L
Size: Height 46 cm / 18.11in; diameter 20 CM / 7.87in

Storage Size (diameter * height): about 23.8 x 10CM / 9.37 x 3.94in
Length of Water Pipe: 200cm / 78.74in
This product has limited quantities and will be removed from the store when it is sold out! Get yours before they are gone.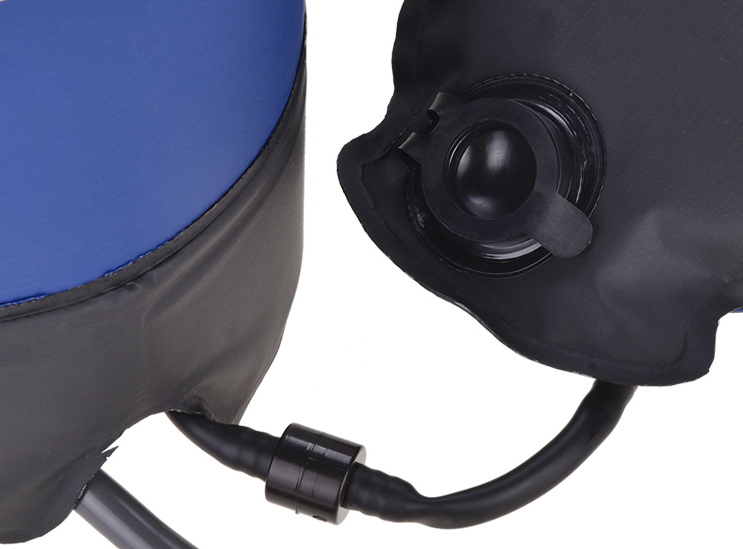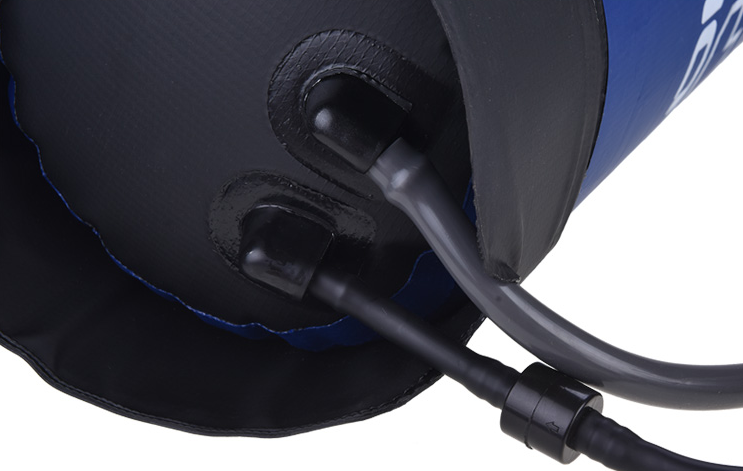 Portable Inflatable Shower Bag
Portable Inflatable Shower Bag

Description

These 11L shower bags can be used as an outdoor camping shower, road travel shower, water flowering tool, and surf shower. Other popular uses include car washes, bathing animals, rinsing camping dishes and watering plants.

Easy Foot Pump: The Camp Shower Bag adopts a newly designed foot pump with a large, highly elastic mesh sponge that bounces by itself, allowing you to enjoy the same refreshing shower outdoors.
Pressure Nozzle: the pressure nozzle can easily control the flow of water, effectively rinse the body. The gripper switch is easy to open and close and please use water on demand to save resources.
Waterproof Design: the barrel is made of PVC mesh fabric. With the high-frequency laser welding process, it has a good seal. The protective cover is provided at the top cover to prevent it from being opened when the air pressure is too high.
Oversized Water Inlet Design: Oversized water injection over the bucket makes water injection faster. With handles on the top, you can hang on-demand or by hand.
Lightweight and Portable: the camp shower bag is easy to unfold to portable showers. The compact size and zippered bags make the outdoor shower a lightweight solution.

Capacity: 11L

Size: Height 46 cm / 18.11in; diameter 20 CM / 7.87in


Storage Size (diameter * height): about 23.8 x 10CM / 9.37 x 3.94in

Length of Water Pipe: 200cm / 78.74in

This product has limited quantities and will be removed from the store when it is sold out! Get yours before they are gone.




Reviews