Portable USB Powered Blender (400ml Capacity)
$39.99
Small, but powerful: This powerful battery-operated blender can produce 10-12 cups per charge. Simply charge via USB port 2-3 hours before initial use, then add your ingredients and power-on for a tasty smoothie or shake in 90 seconds.
Simple and safe to use: Single-button operation makes this portable blender quick and easy to use. Built-in safety features prevent overheating and also ensure that the unit will not operate if components are improperly assembled.
Durable and built to last: Made from high-quality BPA free and food-grade materials, featuring a durable 6-point 304 stainless steel blender blade and 2000mAh battery powering a 3.7V motor, this powerful smoothie blender is not a toy. 4 blade unit available at a reduced price.
Goes wherever you go: This compact lightweight blender is ideal for tucking into a gym bag, briefcase or purse so you always have a healthy option wherever you are. At 3 x 3 x 9 inches, this cordless travel blender is easy to store when not in use.
Portable and Multi-functional: This smoothie blender can crush ice, frozen fruits, seeds, stem, vegetables very well, and get delicious silky smoothies shakes all in 20 seconds. Its very portable for traveling, camping, fishing etc outdoor.
Made of high-quality PP material, it is resistant to high temperature, non-toxic, and safe to use. Stainless steel vibrating blade for durability and durability. The lower anti-slip design is very convenient. Exquisite appearance and exquisite work, long service life. Really portable and convenient, allowing you to mix drinks from the same bottle. Unique portage rope design, very portable, enjoy your juice anytime, anywhere. Ideal for traveling homes or accessories.
This product has limited quantities and will be removed from the store when it is sold out! Get yours before they are gone.
 Specifications

Capacity:

<400ml



Power (W):

<200W

Certification: 

CE

Laying Method: 

Hand Held



Function: 

Mixing, blending, chopping

Dimensions (L x W x H (Inches): 

235 x 80 x 80mm



Blade Material: 

Stainless Steel



Cup body capacity: 

380ML



Cup cover material:

food-grade PP

Base material:

food-grade ABS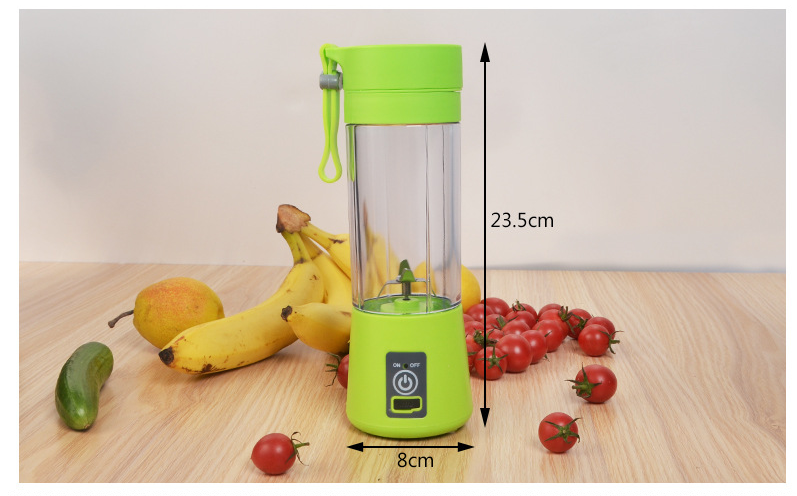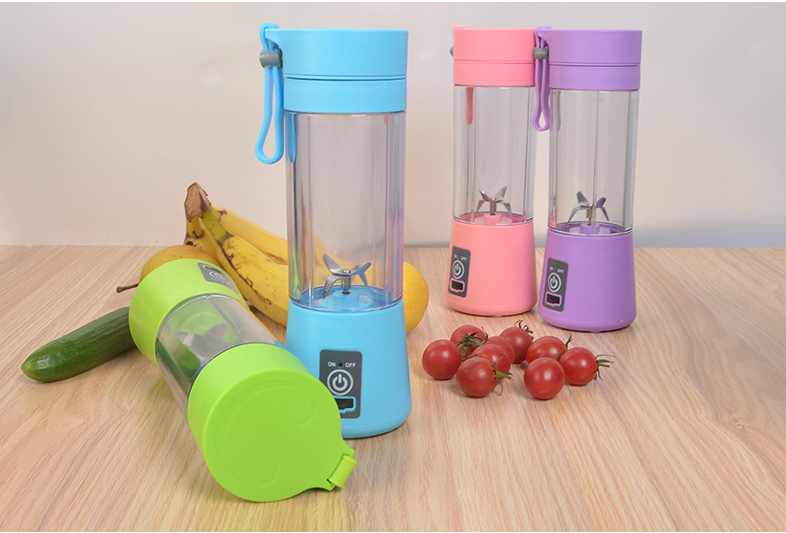 Portable USB Powered Blender (400ml Capacity)
Portable USB Powered Blender (400ml Capacity)

Description

Small, but powerful: This powerful battery-operated blender can produce 10-12 cups per charge. Simply charge via USB port 2-3 hours before initial use, then add your ingredients and power-on for a tasty smoothie or shake in 90 seconds.
Simple and safe to use: Single-button operation makes this portable blender quick and easy to use. Built-in safety features prevent overheating and also ensure that the unit will not operate if components are improperly assembled.
Durable and built to last: Made from high-quality BPA free and food-grade materials, featuring a durable 6-point 304 stainless steel blender blade and 2000mAh battery powering a 3.7V motor, this powerful smoothie blender is not a toy. 4 blade unit available at a reduced price.
Goes wherever you go: This compact lightweight blender is ideal for tucking into a gym bag, briefcase or purse so you always have a healthy option wherever you are. At 3 x 3 x 9 inches, this cordless travel blender is easy to store when not in use.
Portable and Multi-functional: This smoothie blender can crush ice, frozen fruits, seeds, stem, vegetables very well, and get delicious silky smoothies shakes all in 20 seconds. Its very portable for traveling, camping, fishing etc outdoor.

Made of high-quality PP material, it is resistant to high temperature, non-toxic, and safe to use. Stainless steel vibrating blade for durability and durability. The lower anti-slip design is very convenient. Exquisite appearance and exquisite work, long service life. Really portable and convenient, allowing you to mix drinks from the same bottle. Unique portage rope design, very portable, enjoy your juice anytime, anywhere. Ideal for traveling homes or accessories.

This product has limited quantities and will be removed from the store when it is sold out! Get yours before they are gone.

 Specifications


Capacity:

<400ml



Power (W):

<200W

Certification: 

CE

Laying Method: 

Hand Held



Function: 

Mixing, blending, chopping

Dimensions (L x W x H (Inches): 

235 x 80 x 80mm



Blade Material: 

Stainless Steel



Cup body capacity: 

380ML



Cup cover material:

food-grade PP

Base material:

food-grade ABS









Reviews