PULUZ Portable Waterproof Scratch-Proof Camera Backpack (2020 Version)
$47.99
Features:
Professional storage case to meet your sports needs to hold your personal effects.
Comfortable soft handle and soft shoulder straps will make you feel comfortable even in the longest journey.
Can load digital SLR camera body, as well as lens and 1-2 additional lens and accessories.
High-quality wear-resistant and waterproof material, equipped with durable metal zip fastener, solid shoulder harness, you can carry it with you to do some sports or have a journey freely.
The main pocket equips with a variety of sub bags: Camera bag, notebook bag, iPad case, phone case, magazine or cloth case, sunglasses or small objects case, independent water bottle bag, etc.
With headphone hole design, can connect the phone in the bag through the hole to listen to music or charge with the external power.
Large space, big capacity, wonderful outdoor sports traveling partner to contain your 15.6-inch notebook, camera, cloth, foods, water bottle, small dinnerware, magazine, tablet, mobile phones, sunglasses, folding umbrella, kleenex, sanitary towel, lipstick and other cosmetics.
This product has limited quantities and will be removed from the store when it is sold out! Get yours before they are gone.
Specification:
MaterialPolyester
Size: 43*30*19.5cm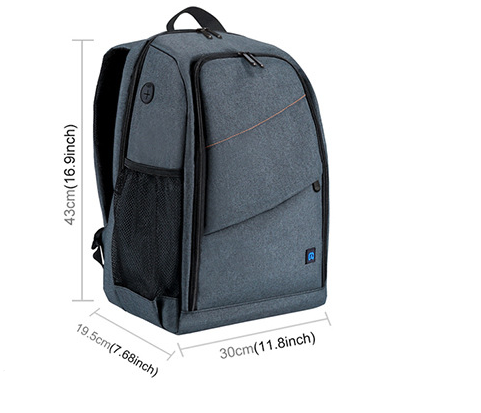 PULUZ Portable Waterproof Scratch-Proof Camera Backpack (2020 Version)
PULUZ Portable Waterproof Scratch-Proof Camera Backpack (2020 Version)

Description

Features:

Professional storage case to meet your sports needs to hold your personal effects.
Comfortable soft handle and soft shoulder straps will make you feel comfortable even in the longest journey.
Can load digital SLR camera body, as well as lens and 1-2 additional lens and accessories.
High-quality wear-resistant and waterproof material, equipped with durable metal zip fastener, solid shoulder harness, you can carry it with you to do some sports or have a journey freely.
The main pocket equips with a variety of sub bags: Camera bag, notebook bag, iPad case, phone case, magazine or cloth case, sunglasses or small objects case, independent water bottle bag, etc.
With headphone hole design, can connect the phone in the bag through the hole to listen to music or charge with the external power.
Large space, big capacity, wonderful outdoor sports traveling partner to contain your 15.6-inch notebook, camera, cloth, foods, water bottle, small dinnerware, magazine, tablet, mobile phones, sunglasses, folding umbrella, kleenex, sanitary towel, lipstick and other cosmetics.

This product has limited quantities and will be removed from the store when it is sold out! Get yours before they are gone.

Specification:

MaterialPolyester

Size: 43*30*19.5cm




Reviews